You know, this guy: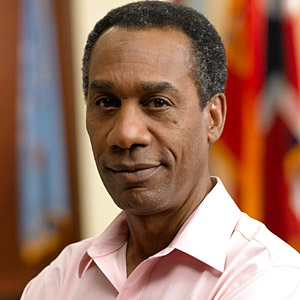 Notable Roles:
Miles Dyson - "Terminator 2"
Capt. "Mac" McMahon - "Speed"
Sergeant 'Cappy' Matheny - "Executive Decision"
Senator Gary H. Wright - "House M.D."

Why He's Awesome:
When Morton showed up in "T2" he had been around for 20 years. Having done the sitcom circuit (Sanford and Son, What's Happening, Who's the Boss), the Terminator sequel finally brought him to people's attention. He's a go-to guy for authority figures. Always a senior officer or supervisor, there's never any doubt his men love him. He always plays the chief with the kind of charm we all wish our bosses had. The audience can tell, even if it doesn't happen in the film or show, the guys under him would walk into fire for him. He just gets the kind of charm a guy like that needs to have.
In the mid to late 2000s, as Barack Obama came to prominence, many black actors were tapped to play strong black politicians. Morton's guest spot on "House" may be the most memorable. When Dr. House diagnoses Morton's Senator Wright with AIDS, we know a cover-up is coming. With a skeptic like House calling him out, it takes an acting force like Morton to really convince us he's the genuine article.
Simply put, he's smart and reliable, and hopefully he'll work forever.
You'd Be Surprised to Learn:
He was nominated for a Tony for his role in the musical "Raisin." That's not really all that notable. What's surprising to me is that they made a musical of "Raisin in the Sun." Seriously?
Check out his imdb page.
Labels: movies, supporting, TV