[originally written for overtimecomedy.com on 3/31/08]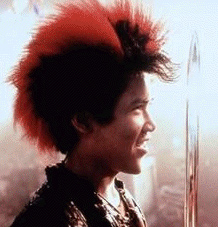 "Hook" came out Christmas 1991, but the sheer coolness of Rufio lasted all the way into the summer. We all held that feeling inside, so we could turn summer camp into our own version of Neverland. The cool kids all tried to make themselves more like Rufio. My adult self can totally look past how he turned beautiful Neverland into a
basketball skate park and introduced the wholly unnecessary catch-all term "bangerang."
I can forgive the red, frosted triple mohawk, and that he's pretty much a total dick. I've almost completely forgot that he stupidly tried to take on Captain Hook on his own and
his last words were pretty lame
. Why can I just let this all go?
He was fucking RU. FI. OOOOOOOOOOOOOOOO!