[originally written for overtimecomedy.com on 9/3/07]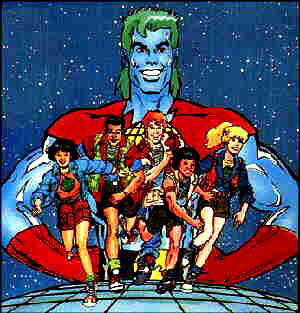 Close your eyes. Imagine it's 15 years before "An Inconvenient Truth." You work for a big production company and you're developing a cartoon to
educate kids about living green.
You get up to pitch Captain Planet, and everyone gets excited. Toward the end of your presentation, the boss asks a key question, "Superman's got kryptonite. What's this guy's weakness?"
You gather up your nervous energy and proudly announce to the room, "Pollution."
OPEN YOUR EYES
You've just imagined yourself answering a question I can assume was never asked. Someone actually signed off on a super hero
who fights pollution and whose only weakness is said pollution.
The man can't clean up toxic waste with his bare hands if he has to worry about getting even a little on himself. In fact, he is more vulnerable to pollution than the planeteers. I guess we can't expect much more from the guy who came up with that
lame heart kid
.
For further proof that Captain Planet's a lame ass, enjoy this short skit I've written:
INT. DR. BLIGHT'S LAB — DAY
CAPTAIN PLANET smashes through the wall and comes face to face with the unconcerned DR. BLIGHT. She stands confidently, arms clasped behind her back.
CAPTAIN PLANET
Game over, Dr. Blight. Your plan to
reverse the
North Atlantic Current
has failed.
DR. BLIGHT
But you see, Planet, that was only
the beginning
of my master scheme.
Dr. Blight brings her arms forward to reveal a lit cigarette.
DR. BLIGHT (CONT'D)
You see, Planet, even in this well
ventilated room, this
tiny amount of
second-hand smoke will be enough
to take you down.
CAPTAIN PLANET
Oh no. Unfiltered.
Before he can react, Dr. Blight blows smoke in Captain Planet's face.
He fucking dies.
Maybe if they had caught this tiny detail early on, they would have also noticed other problems in the show, like how it teaches
next to nothing about eco-friendly behavior.