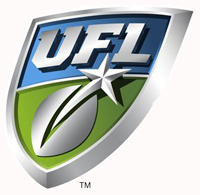 This has been an exciting off-season for this scrappy professional football league. The looming NFL lock-out made it seem like this could be the year the United Football League actually becomes a real thing.
Not only did that not happen, but the league failed in its major goal of expanding the league to eight teams. Just when it seemed like they might gain a sixth team, the Florida Tuskers folded. I'm a little miffed I don't have those ridiculous assholes to mock anymore, but I'll get over it. Two-time champion Las Vegas Locomotives now remain the only one of the original franchises to survive the league.
With all the personnel shifts in the off-season, this could be a totally new game for a totally new league. The season opener, Colonials at Virginia, will pit veteran coaches Jerry Glanville and Marty Schottenheimer against each other. Can Schottenheimer turn this new team into competitors? Can Glanville pull the Colonials out of their last place position? Game #2, Nighthawks at Sacramento, will give veteran corporate CEO Joe Moglia a chance to prove if having the money to buy a football team qualifies him to coach it. He'll have to get past Dennis Green, Daunte Culpepper, and the Sacramento Mountain Lions, who last year climbed from last place to a real chance at a Championship slot. Jim Fassel and his Locos will have a week to sit out and figure out if they need to show up this year, or just sort of fall asleep after week 4 and coast into another Championship victory.
Just like last year, the season will be 10 weeks, 2 games per week, with the fifth team taking a bye. This season, though, starts in mid-August, presumably to avoid another embarrassing Saturday-after-Thanksgiving midday Championship. Let's take a look forward at another ridiculous/exciting year of UFL Football:
Week 1
Saturday, August 13 - Hartford at Virginia
Sunday, August 14 - Omaha at Sacramento
BYE - Las Vegas
Week 2
Saturday, August 20 - Las Vegas at Sacramento
Sunday, August 21 - Virginia at Omaha
BYE - Hartford
Week 3
Saturday, August 27 - Omaha at Las Vegas
Saturday, August 27 - Sacramento at Hartford
BYE - Virginia
Week 4
Friday, September 2 - Omaha at Virginia
Sunday, September 4 - Hartford at Las Vegas
BYE - Sacramento
Week 5
Saturday, September 10 - Virginia at Sacramento
Saturday, September 10 - Las Vegas at Hartford
BYE - Omaha
Week 6
Sunday, September 18 - Sacramento at Omaha
Sunday, September 18 - Virginia at Las Vegas
BYE - Hartford
Week 7
Friday, September 23 - Omaha at Hartford
Saturday, September 24 - Sacramento at Virginia
BYE - Las Vegas
Week 8
Friday, September 30 - Las Vegas at Omaha
Saturday, October 1 - Hartford at Sacramento
BYE - Virginia
Week 9
Saturday, October 8 - Virginia at Hartford
Saturday, October 8 - Sacramento at Las Vegas
BYE - Omaha
Week 10
Friday, October 14 - Las Vegas at Virginia
Saturday, October 15 - Hartford at Omaha
BYE - Sacramento
Championship Game October 21-23