You know, this gal: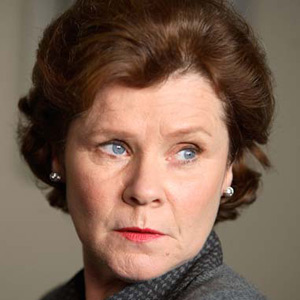 Notable Roles:
Maria - "Twelfth Night"
Nurse - "Shakespeare in Love"
Bunty (voice) - "Chicken Run"
Dolores Umbridge - the "Harry Potter" movies

Why She's Awesome:
She can be bawdy or stern but (I'm sure much to her chagrin) she'll always be old. Staunton seems to always have had an old soul, and it always comes out in her movies. I wonder if she has strong convictions in real life because in her movies, she's always someone with a strong point of view. That strong point of view has brought her nominations for "Shakespeare in Love" and "Vera Drake." I loved her in "Shakespeare in Love." Whatever flaws the movie has, it features, in snippets, a very strong staging of
Romeo & Juliet
. It's through Staunton's character's eyes that we feel the impact of the play's first ever performance.
She was perfect in the "Harry Potter" films. That delightful way she runs her little fascist regime makes you laugh while you're completely horrified of what she represents. Now that her actual age has caught up to her soul, she'll be able to settle into more of these roles. They're usually in Jane Austen adaptations, but if she can play the rancorous Maria in "Twelfth Night" I'm sure she'll show up in a movie I'd actually watch.
You'd Be Surprised to Learn:
Apparently Emma Thompson once had an awful TV show called "Thompson." Staunton was in it.
Check out her imdb page.
Labels: movies, supporting, TV