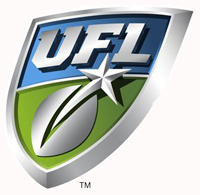 I was a little busy visiting friends, so I missed most of the game. You can't really blame me. The game was on at noon on the Saturday after Thanksgiving. It's like they didn't want anyone to watch. No one even showed up to the game. The people of Omaha filled Rosenblatt stadium for all four Nighthawk home games, but for the Championship, they stayed home. I understand the league has to work around the NCAA, but come on. Noon Eastern is bad enough, but it's 9AM Pacific. The Saturday after Thanksgiving, most west coast sports fans are asleep.
I did manage to catch the end. Between drinking at noon and explaining the UFL to my friends, I didn't much pay attention. The highlights I remember are few and far between. The Las Vegas defense did a good job of containing Greisen's passing. Both QB's did some amazing running. After the single worst snap I have ever seen, Greisen bobbled the ball into the end zone, where he was tackled for a safety. In the last minue of the game, the Locos blocked the field goal attempt that would have tied the game and made this Championship nearly identical to last year's.
Overall, even though the Championship was between the exact same teams, with the exact same result, I'm satisfied with the game. Chase Clement went from third-stringer to Championship MVP. Even if he hadn't, the game was headed by 2 replacement quarterbacks. That is the spirit of the UFL. Hell, even the ridiculous start time was hilariously perfect. I'm already waiting for next year. Hopefully, they can expand to the 8 teams they want. It's gonna be fucking sweet.