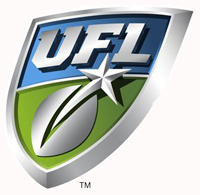 Let me tell you what the UFL is.

After the Rams left LA and the Oilers left Houston, this guy William Hambrecht was totally bumfuzzled. Why would these teams leave huge media markets? Basically, on an NFL scale, the money just wasn't there. Right there, on the spot, like Newton inventing gravity, this guy came up with a small-scale football league to fill in the gaps. Just look at an NFL map; see those huge areas with nary a professional sports team to be found.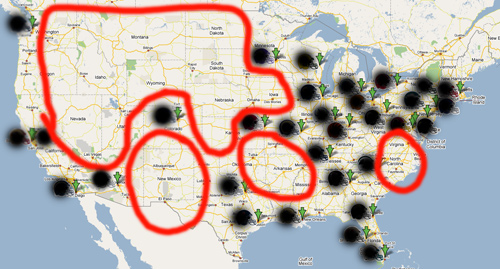 There you have it, in a nutshell. The UFL brings football to the small markets of
Las Vegas, Omaha, Hartford, Sacramento, and Florida.
Wait. Florida?!?!? Florida already has three NFL teams.
Texas, where the people worship football second only to the son of God, only has two.
You know the only other states with three NFL teams? California and New York (and two of those play in New Jersey!). Why am I not making such a stink about Sacramento? Because they're not the California Mountain Lions, are they? Sacramento is a city with one mediocre basketball team and very little fanfare. It's a state capital. It is almost by definition uninteresting, like Albany or Tallahassee (which would have been a great place to put the Tuskers). The Tuskers play in Orlando. Just call them the Orlando Tuskers.
As you can see, the UFL doesn't entirely make sense. It does, however, sound really cool. The average ticket price is $20, and in 2011, they're starting up their sixth franchise in Virginia,
which amazingly has no professional sports teams.*
I don't know about you, but I'm tired of living in a country where Utah has a sports team but Virginia doesn't. I'm making it my mission to draw as much attention as possible to this hilarious upstart of an organization. Before you surf to another page, take a moment to get to know your new friends




Hartford
Colonials




Sacramento
Mountain Lions




Omaha
Nighthawks


Las Vegas
Locomotives




Florida
Tuskers
Florida, seriously, what the fuck is a Tusker? Why do you need a UFL team? Wait, is the Las Vegas mascot really a choo-choo train?
No wait, it's cool.
They call themselves the "Locos."
That makes everything ok.
*For a list of states with no pro sports team,
try taking this Sporcle list
, then start envisioning where you'd put a UFL team.