You know, this guy: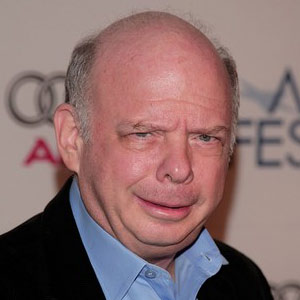 Notable Roles:
Vizzini - "The Princess Bride"
Mr. Wendell Hall - "Clueless"
Rex - "Toy Story 1, 2, 3-D"
Stuart Best - "Murphy Brown"

Why He's Awesome:
He was fucking Vizzini. I could stop there, but you know I won't. "Inconceivable." That's a ten cent word he single-handedly added to the general vernacular. In and of itself, it's not that funny a word, but his delivery hits it out of the park. Amazing. No one dies of iocane poison like Wallace Shawn. Because of him, we all know the two classic blunders (never get caught in a land ward in Asia, and never go in against a Sicilian when death is on the line.) After working steadily for the next eight years, he comes back with another classic and totally different character, as the lovably hopeless Mr. Hall in the "Clueless" movie and TV series. I cannot think of a better match for Amy Heckerling's go-to gal
Twink Caplan
.
His best known voice work is Rex in the "Toy Story" movies, but that distinctive delivery of his can be heard all over the modern animated world from "The Incredibles" to "Chicken Little" to "Happily N'ever After" to "Family Guy" to, yes, "The Princess Bride" video game.
My favorite Wallace Shawn role, though, is a series of four guest spots he did on Murphy Brown as Stuart Best (possibly the best fictional name ever, combining ex-Beatles Stuart Sutcliffe and Pete Best). He plays a former FYI reporter, kicked off the show for being AMAZINGLY annoying. He even has his obnoxious, semi-folksy catch phrase, "That's alls I know." In his second appearance on the show, he wins a seat in the House of Representatives, and subsequently embarrasses Murphy at the inauguration. She gets her revenge by inviting him on the show to share his views, of which she knows he has none. Turns out, he was bankrolled by white supremacists. If you haven't seen the episode "The Best and Not-So Brightest" from the seventh season, I won't ruin it for you.
You'd Be Surprised to Learn:
He's a fairly successful playwright, having won several Off-Broadway awards. A troupe doing one of his plays beat my high school out of the finals at the Massachusetts High School Drama Guild One-Act Play Festival, and I'm still bitter about it. Also,
today's his birthday.
Check out his imdb page.
Labels: movies, supporting, TV