You know, this guy: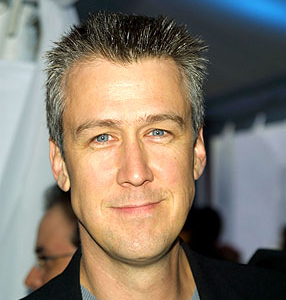 Notable Roles:
Cameron Frye - "Ferris Bueller's Day Off"
Capt. John Harriman - "Star Trek: Generations"
Rabbit - "Twister"
Stuart Bondek - "Spin City"

Why He's Awesome:
I was going to save him for later, but John Hughes just died, so he gets a bump. Come on, everyone loves Cameron, and that's a testament both to the genius writing of John Hughes and the soulful acting of Alan Ruck. He can make any character loveable, whether he's stupid or skeevy, you always love everything he does. He's a perfect go-to guy for procedurals. He just shows up and plays a horrible lawyer or patient or criminal that you're drawn to for every moment he's on screen.
In his younger years, he played these sheepish characters, like Cameron or Capt. Harriman. In Generations, he just repeats the line "That's not coming until Tuesday" and it gets funnier every time he says it. He's the perfect meek foil to an increasingly annoyed Shatner. All that changed, though, after Spin City. His Stuart is the most loveable pervert you will ever see. The guy's a skirt chaser in the classic sense, and like many to come before him, he finds a way to make the jerk endearing for year after year.
You'd Be Surprised to Learn:
Before Ferris Bueller, Alan Ruck played Matthew Broderick's best friend in a Broadway production of Biloxi Blues, and in 2005, he played Leo Bloom in The Producers, who was originally played on the stage by Matthew Broderick.
Check out his imdb page.
Labels: movies, supporting, TV