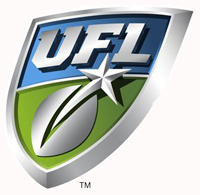 After last season's fiasco, I have to admit, I haven't even thought of the UFL since the Destroyers unseated the Locos as reigning champions. Turns out, the 2012 season starts TOMORROW. Right now, there is very little I can tell you since
UFL's web site
isn't even up right now.
For now, all I can do is get you up to speed. In 2009, four teams with ridiculous names -- Redwoods, Sentinels, Locomotives, and Tuskers -- formed yet another professional football league trying to exist in an NFL dominated world. This one wasn't created by the guy who created professional wrestling, wasn't played by women in lingerie, wasn't played indoors, and wasn't in Canada. This one's goal was to bring football to smaller markets, even though the teams covered California, New York, and Florida.
In 2010, going into their second season, the league had high hopes. The California Redwoods became the Sacramento Mountain Lions. The New York Sentinels became the Hartford Colonials. The teams with the most ridiculous names (what the fuck is a Tusker?) did not change. Omaha added a franchise with an uncharacteristically badass name: the Nighthawks. Five small markets finally had real, professional football teams to root for. The league had high hopes of adding a sixth team in Virginia, and possibly two others in Salt Lake City and Los Angeles. The addition of a fifth team allowed for such luxuries as bye weeks. Although the schedule called for a regular season then a Championship game, with parity amongst the teams, the last few weeks sure felt like play-offs.
The off-season, though, had its ups and downs. The looming NFL lock-out made the UFL seem like a viable alternative. The Virginia Destroyers gave UFL fans a sixth franchise and hope the seventh and eighth would come to life. Then Virginia owner Joe Moglia moved to Omaha. Then the Florida Tuskers folded, moving the whole operation, with coach Jay Gruden to Virginia. Then Gruden became the Cincinatti Bengals' offensive coordinator. Then, like a ray of light from the heavens, Marty Schottenheimer took over coaching duties in Virginia. All was finally right, once again, five teams ready to go.
Then Hartford "suspended operations." It was like when a girl says she wants to take a break, but what she really means is she wants to break up, and you're left holding onto the last bit of hope you might get back together even though you really won't.
The 2011 season was a disaster. The lock-out had the opposite effect. Networks wouldn't commit to anything until they knew the outcome. With all the chaos, parity disappeared. The Locos had two championship seasons. The Destroyers had Marty Schottenheimer. On the other hand, Nighthawks had Joe Moglia, who named himself head coach, and the Mountain Lions had, um, Denzel Washington's son. Four weeks in, the Locos were scheduled to play the Destroyers anyway, so they just called that the Championship. Virginia won, in case you were wondering (God, I hope you were).
After all that, apparently this season is actually happening. Pretty much everything else I'm going to tell you I'm hoping is accurate since, once again,
UFL can't even get their web site up.
The commissioner resigned, and the league owners are just going to commish without him. Several franchises are downgrading their home offices, and a few are maybe losing their home stadiums.
In brighter news, CBS Sports Network will be airing all the games. This is a definite step up from Comcast Sports, HDNet, and Vs. For those of you who don't know how crappy these networks are, Vs. aired the "T. Ocho Show." That's right, a sports show anchored by Terrell Owns and Chad Johnson.
Hopefully, they will have their site back up by next week. For now, here's the schedule. Enjoy the season!
Week 1 (All times Eastern)
Wednesday, Sept. 19: Sacramento at Las Vegas, 9 p.m.
Friday, Sept. 21: Virginia at Omaha, 7 p.m.
Week 2
Wednesday, Sept. 26: Virginia at Las Vegas, 9 p.m.
Friday, Sept. 28: Omaha at Sacramento, 11 p.m.
Week 3
Wednesday, Oct. 3: Omaha at Las Vegas, 9 p.m.
Friday, Oct. 5: Sacramento at Virginia, 7 p.m.
Week 4
Wednesday, Oct. 10: Las Vegas at Sacramento, 9 p.m.
Friday, Oct. 12: Virginia at Omaha, 7 p.m.
Week 5
Wednesday, Oct. 17: Las Vegas at Omaha, 9 p.m.
Friday, Oct. 19: Sacramento at Virginia, 9 p.m.
Week 6* (games Tuesday and Thursday)
Tuesday, Oct. 23: Sacramento at Omaha, 9 p.m.
Thursday, Oct. 25: Las Vegas at Virginia, 6 p.m.
Week 7
Wednesday, Oct. 31: Omaha at Las Vegas, 9 p.m.
Friday, Nov. 2: Virginia at Sacramento, 9 p.m.
Week 8
Wednesday, Nov. 7: Las Vegas at Sacramento, 9 p.m.
Friday, Nov. 9: Omaha at Virginia, 9:30 p.m.
CHAMPIONSHIP GAME
Friday, Nov. 16. Site to be determined, 9 p.m.