We are all gathered here today to honor a fallen Patriot. A man who was taken from us far too soon. While his time with us was brief, we will never forget the sacrifices he made and the place in our hearts where he will live forever. He came to us a lost soul, half of a duo that never should have been, and even though he finds himself again a man without a team, we know he has found a greater truth in his time here.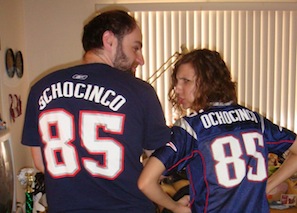 Chad will always be important to me. He is such a ridiculous and fascinating person that when my girlfriend found out he was picked up by New England, she vowed that one day she would actually watch football with me. Although you are no longer with us, I hope you know that you are the reason she came with me to a friend's house to watch a regular season game and was immediately hooked. At the end of the season, we sat and watched you and your brethren fall to the mighty Giants. We cried, together. And for that, I will be forever grateful.
That day, as I am today, we were dressed in number 85. Eight Five.
We were all with you that fateful day you returned from weeks on the injured reserve. We watched with rapt attention as you caught your first pass in four weeks, lit up with excitement, took two steps out of bounds, and kept running. That day, you showed us your love of the game goes beyond rules. When you catch the ball, you run.
We were all with you when your moment of triumph finally came. In week 15, against an agent of Christ himself, you achieve what had eluded you all year. You scored your first and only touchdown of the season, in a 41-23 blow out. We can only imagine what it must have felt like to cross that goal line, finally. You have scored many times in your long career, but I would be willing to bet, none felt so sweet.
We were with you when you achieved your moment of glory, catching a single 21-yard reception on the biggest stage in the world, the Super Bowl.
Ocho, we are with you now. We know you have gone to a better place -- Miami, with your ungodly hot bride-to-be Evelyn -- and we are all with you in spirit. But fear not. You have nothing to fear in the after life. Unlike many others in your position, you have not whined, complained, or royally pissed anyone off. You are not your former tiger partner-in-crime. Yours is not a story of squandered talent. Yours is a tragedy of a man who has finally, concretely found his limit. But, like the gold Starbucks card that was stolen from your wallet you will rise again.
Maybe in your next life, you will be a Dolphin or a Cowboy or a Raider. Or maybe you'll just be insanely rich, universally popular, and married to a human barbie doll. Seriously, is she that hot in person? Know, gentle wind, that we are all with you forever. And in your memory, I will, now and forever, refer to Deion Branch as Ochoquatro. Amen.