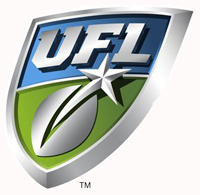 I take the accuracy of my writing very seriously, which is why the UFL is on my shit list (for now, I can't stay mad at them). When I posted a few weeks ago about UFL games being played at 4am, I swear it's because that is what the UFL web site said. The times were all in AM, and they were all in EDT. Now, it would seem, the web site finally has more clearly reasonable times.
Except for a few late afternoon weekend games, all games will be played roughly 7:00 PM, local time. That kind of sucks for Virginia fans who will have to wait until 10 PM when the Destroyers go to Sacramento and Vegas.
So yeah, sorry about that, UFL. Your schedule seems fair enough, and not laughably ridiculous, like I thought.