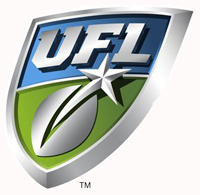 If anyone put money on the NFL lock-out being a huge windfall for the UFL, they are now probably running from loan sharks. The uncertainty behind the NFL deal made it so hard to secure TV deals, the UFL seems to be grasping for air as it announces it's almost embarrassing new 2011 season.
This just means now, more than ever, people need to support the United Football League. They are at the mercy of the bigger fish. All they're trying to do is spread quality football to the smaller markets around the country. This time last year, Des Moines saw a glimmer of hope that they could host honest to God pro football. Having fallen back to where they were two seasons ago, I'd say we'd be lucky if the league finished this season, let alone had a fourth. Before I get into it, let me just say, keep checking back in here or go to
www.ufl-football.com
to keep updated on where you can watch the games. But onto the hilarious schedule...
With only four teams, the season will start September 15 at 8:00AM, and end October 28, 8:00AM. Some time not too long after that, the league will host the third annual UFL Championship Game, which I'm sure we'll hear about mid-October. Hell, the last game of the season is Sacramento at Omaha. If those two teams have the top 2 records, they might just call that the Championship.
But let's back-track for a second. You read right, the games start at 8:00 AM. That's Eastern Time. For me, out here on the west coast, that game starts at 5:00 in the morning. I just finally got used to waking up for 10AM Sunday NFL games. I'm saying it right now. I refuse to wake up that early. Maybe I'll catch a late game, by which I mean the other Week 1 game that starts at 11AM. Who I feel really bad for are the teams who have to play 2 of the 3 Sacramento home games that start at 7AM Eastern. That means these teams will be taking the field at 4:00 in the morning, in Sacramento, in October. I know you all think California is warm, but up there in NorCal, in the fall, before the sun rises, it can get pretty fucking cold.
As much as I will try to watch games live, without losing precious sleep, I will keep track of the season, and it looks like it's going to be a good one. With the weak Colonials and obnoxious Tuskers weeded out, we've got what could be four evenly matched teams. With fewer teams and no byes, the season is a lot easier to keep track of.
Weeks 1 & 6
Weeks 2/3 & 7
Weeks 4 & 5
Weeks 2 and 3 have one game each, so even though they take place over more than 7 days, it's basically one week. I guess that means the Molos and Nighthawks get a Week 2 bye, but what's the point? Each team hosts every other team once. Vegas will be on the road until Week 4, and Virginia will host their last game Week 5. Vegas will also host the last two games, and if previous years are any indication, they might as well just stay there for the Championship. The Nighthawks are the only team without consecutive home games. Without a stop in Omaha to break up the trips, the Destroyers will be traveling clear across the country 3 times in 3 weeks.
The season will be short, but with competition this tight and a schedule this insane, we might end up seeing some amazing football. At least we will if it's even possible to play good football while the sun comes up.